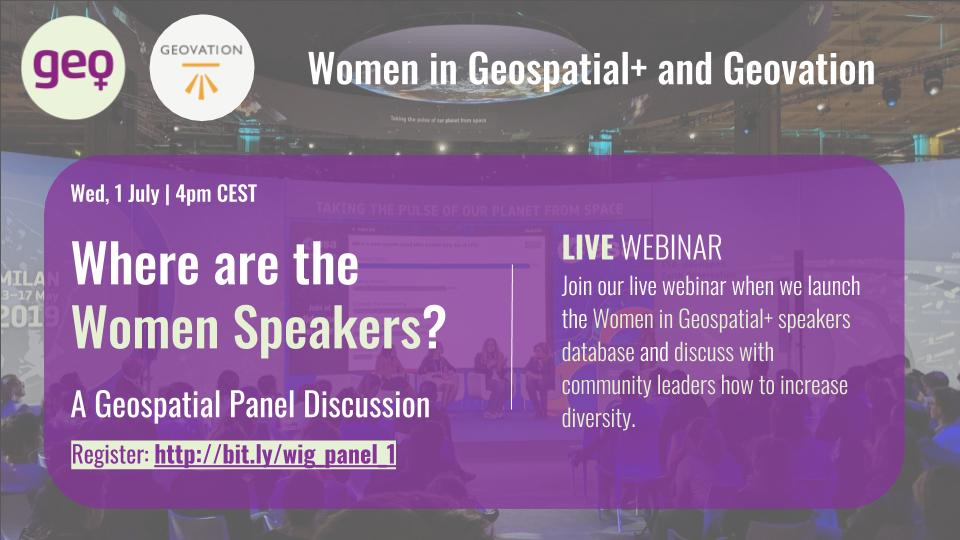 The composition of conference speakers, especially those in the geospatial field, lack diversity. This is what we aim to change with our Women in Geospatial+ speakers database. We want to see more people of underrepresented gender backgrounds sharing their expertise on stage. With more diverse speakers at geospatial conferences and events, the geospatial field will benefit through their wide ranging perspectives, skills and talent.
The common excuse of conference or event organisers is that they were unable to find any women+ speakers. In reality it is often the case that systemic challenges make it difficult for women to become speakers, especially if organisers have implicit biases that they are not aware of. We want to encourage the industry to step up for diversity and bridge the gap by providing a pool of women+ experts. The speakers database is aimed at people from underrepresented gender backgrounds and for conference and events organisers alike.
In this webinar, we would like to discuss the question: "Where are the Women Speakers?" We are engaging in a discussion about the lack of diversity in conferences and how this can be changed. With voices of those organizing conferences, other diversity organisations and accomplished women speakers, this panel launches our effort to speak up and embrace change!
Register on Eventbrite here to receive the access link for this webinar.